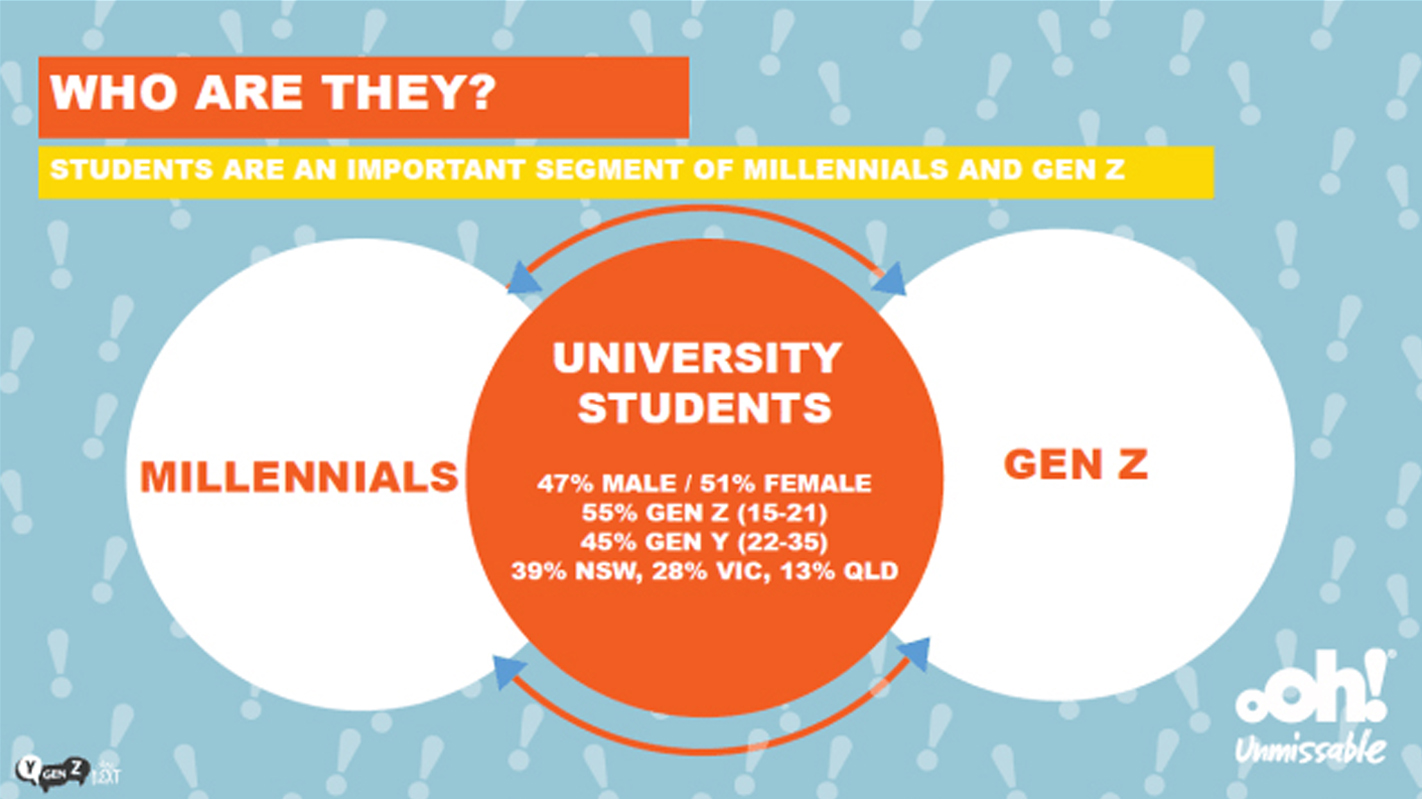 Exploring the myths around Gen Z
30
May
A study has found that young Aussies are positively connecting with brands – particularly on branded content via social media – and are choosing to spend up on life experiences.
"…the report gives advertisers the insights needed to create deeper connections with audiences, as well as showing that students are not immune to brand and marketing messages."
- – -
Article Credit: http://www.adnews.com.au/news/exploring-the-myths-around-gen-z#IIzAyuXkPZGe7I7f.99
By Daisy Doctor
Young Australians have more disposable income and brand affinity than previously thought, according to a new study by Ooh!Media and Junkee Media, and are more likely to spend their money than save it.
Ooh!Media and Junkee commissioned the 'Y Gen Z are Next' report to explore the myths around Gen Z – people born roughly between 1995 and 2011. Surveying more than 3000 people, it looked at social media patterns, online behaviour, news and current affairs engagement and data from data powerhouse Quantium.
According to the study, Gen Z are willing to connect with brands and are positively influenced by marketing, particularly branded content via social channels and media. I shows that this generation is not saving for a house or a car, they are spending on life experiences.
Ooh!Media CMO Michaela Chan says the report gives advertisers the insights needed to create deeper connections with audiences, as well as showing that students are not immune to brand and marketing messages.
"Our research shows they are receptive to brand messages, just not in traditional ways, and their buying habits show they simply don't spend money the way young people did in the past," Chan says.
"[Gen Z] are more likely than other generation to engage with brands through social media, will consume branded content as long as it's relevant and interesting and are engaged by out-of-home (OOH )advertising – with 78% of them saying they've searched for more information online as a direct result of seeing an OOH ad," she added.
The insights found:
82% of Gen Z's get more local, national and international news from social media than newspapers and TV news programs
Facebook is their main social media channel – 99% of Gen Z use it every day
Snapchat is their second most used – 84% use it every day, with Instagram third at 79%
98% use their mobile phone to access news and entertainment content 
78% have searched for information after seeing an

OOH

advert
14% of monthly income is saved for travel, while 8% of income is spent on fashion and 20% on events and entertainment
27% of students earn more than $30k per year
55% of full time students have a part time job, and 10% of part time students have full time jobs
40% rent a home, while 49% live at home (14% of those pay rent)
According to the findings, students are more likely to shop with brands such as Asos and Zara that have an online presence and have a high affinity for budget-conscious travel brands like Hostel World, Airbnb and AirAsia.
Junkee recently launched a Gen Z-targeted title, Punkee, which is headed up by managing editor Tom Pitney and marks the rebrand of TheVine, which Junkee purchased last year.
The report was a collaboration between Ooh!,Junkee and Pollinate Research and is the largest research undertaking since Ooh! acquired Junkee Media in 2016. The report was launched by Junkee at the Millennial Marketing Conference in Melbourne.
Ooh! Media acquired an 85% stake in youth publisher Junkee in June last year in a deal worth just above $11 million. It allows Ooh!Media the right to acquire the remaining 15% in the future.
"[Gen Z] are big drivers of the access economy and have a much lower affinity for brands in the hardware and home decorating space," says Chan.
"Understanding the buying habits of young people, in this case students and using Quantium data, we can see that when compared to the average Australian, there's higher levels of spend for certain brands, particularly those that offer experiences like travel, live sporting events and music and food festivals."
Category tags: Industry Insights , Branding